Advance PRAISE for The Tremble of Love
Ani Tuzman's lovely, heartfelt prose draws us into a tale filled with mystery and power, evoking a lost world and introducing us to one of the truly great mystics of the Western world. A beautiful book.
–SALLY KEMPTON, teacher of yoga philosophy and author of Awakening Shakti and Meditation for the Love of It
The message of the Baal Shem Tov―ecstatic seeker, compassionate healer, mediator, mystical teacher, and peacemaker―is as needed today as it was in his lifetime: our capacity to love and care for the other is the path to lasting peace and harmony.
–DR. PAULA GREEN, founder and senior advisor, Karuna Center for Peacebuilding
The Tremble of Love is a book that nourishes the spirit, a book for people of all faiths―as well as for those who have lost faith.
–FATHER GILBERT ARANHA, Executive Secretary for the Bishops' Conference for Ecumenism and founder of JPK House of Love (Prema Nilaya), Mysore, India
Ani Tuzman has written a rare novel in which her love, both of the subject and of the act of writing, is palpably present. Perhaps this is what has allowed her to bring to birth a new Ba'al Shem Tov, appropriate to the twenty-first century.
–ARTHUR GREEN, Neo-Hasidic teacher and rector, Hebrew College Rabbinical School
An historical novel of epic proportion, The Tremble of Love leaves the reader with a sense of connection to the great cycles of life and the holiness that pervades all things. The Tremble of Love is an invitation into the heart.
–REVEREND NANETTE SAWYER, author of Hospitality–the Sacred Art: Discovering the Hidden Spiritual Power of Invitation and Welcome
A bold navigation between historiography and fiction, presenting a richly colorful image of the Baal Shem Tov's personality and life story.
–IMMANUEL ETKES, professor emeritus, Hebrew University of Jerusalem and author of The Besht: Magician, Mystic, and Leader
The Tremble of Love presents a world where death, loss, tragedy, accident, and disease are never far away, but also where the human capacity to hold and heal are almost always nearer than imagined—because God, who is Love, is also astonishingly nearer than imagined.
–RABBI NANCY FLAM, cofounder of the National Center for Jewish Healing, founding director of the Institute for Jewish Spirituality
This work is destined for greatness, in the holiest sense of the word.
–REVEREND CARLOS ANDERSON, founder of One Life School Ministry & New Genesis Foundation
I left the world while reading Ani Tuzman's novel and came to love the world more.
–DAN SHANAHAN, poet, The Lotus Seed Poems, The Alaska Poems, and Crystal Lake
The Baal Shem Tov is an authentic hero who communicates and celebrates empowering love, joy, and wisdom. This book is a delight to read and an engaging reflection on religious history. Even more so, it reminds us of how true spiritual resources can be cultivated and communicated in our own vulnerable time.
–RABBI SHEILA WEINBERG, creator of the Jewish Mindfulness Teacher Training Program and author of Surprisingly Happy: An Atypical Jewish Memoir
Ani Tuzman's prose sings with lyricism in this captivating mystical narrative that carries readers into the depth of their souls and the peace and beauty that can be found there. The Tremble of Love: A Novel of the Baal Shem Tov offers refuge for the soul—for our collective soul.
–MEIRA WARSHAUER, composer of Symphony No.1: Living Breathing Earth
The Tremble of Love:
A Novel of the Baal Shem Tov
Available Now!
Hardcover, Paperback and eBook.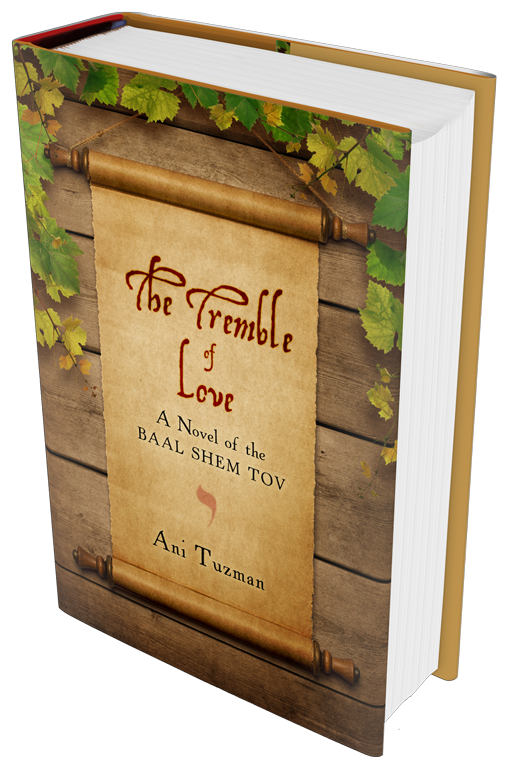 Excerpts from Customer Reviews
I read the book at all hours, mostly at dawn, a meditation in words …The gift of The Tremble of Love is that it transports the reader to a bygone era as well as to innermost realms that are ever-present.
Sheila Lewis
The Tremble of Love … reveals and revels in the ultimate transformation of a homeless orphan into a learned and widely respected spiritual leader who courageously confronted "the world of endless human suffering, fear, greed, and loss in order to bring a message" about the indomitable power of love and compassion.
Barbara Cooper
I realized when I finished it that I wasn't just thinking about its theme of compassion, I was experiencing my own compassion. This is a powerful book!
Gita Haddad
A passionate spiritual journey told through the hearts and minds of vibrantly drawn characters who live a vivid, unforgettably moving tale of faith.
Diane Aronson
When I received The Tremble of Love to review, I smiled, thinking inside, "I will never get through a 500-page book of historical fiction. Fast forward six weeks. I now feel profound gratitude for a book that has deeply changed me…The Tremble of Love is one of the most riveting and beautiful books I have ever read…Several women in the book especially captured my heart. They showed strength and autonomy at a time when women had such prescribed and limited roles… I was deeply inspired by their commitment to Truth, and powerfully touched by their relationship to death. I also found in this book the most beautiful description of lovemaking that I have ever read.
Susan Olshuff
Beautifully written. A book for the ages.
Peter Acker
This is a book for which no review can do justice. It is at once gentle and strong, deeply spiritual and with page-turning excitement, and brings us into both the spirit of an exciting history and the intimate relationships among its personalities. It is a book of every day, and a recognition of the holiness and connections among all the moments of "every day…. Some may wonder whether the specialness of this book is somehow greater for, or oriented to, Jewish readers or those with a spiritual bent… The answer is an emphatic 'no.'
David Ferleger
Not since reading Siddhartha when I was 16, have I felt this way about a book.
Amazon Customer
Rich visual images of Chagall-like quality are brought to mind as one reads. The Baal Shem Tov's attentive presence and radical teachings inspire joy, love and acceptance. This is a timeless story that touched this reader's heart.
Joan Epstein
Ani Tuzman has accomplished something that I've rarely experienced in historical fiction: her novel succeeds as transformational art.
Michael Slesnick
From the first page of this lyrically written novel, I had the dawning physical sensation that I had entered a charmed world, much the way one feels looking at a scene inside a snow globe as a child, wishing oneself within. I found myself a traveler in a world that was part a landscape of the past, village life in 18th-century Poland, and part a living soul-scape.
Meg Fisher
From the first page through the entire weaving of the story, I found myself absorbed and uplifted, looking forward to each free moment when I could delve in. The novel was a safe refuge for me, drawing me away from the current noisy politics of the world, and instead immersing me in quaint family and village life, involving me with inspiring characters of great compassion and integrity. I felt refreshed and lighter after each nightly "reading retreat".
Beth Cleary
I am deeply moved by the intensity of feelings and spiritual revelations that Ani Tuzman's book evoked in me. The Tremble of Love is not just a book—it is an experience: a spiritual retreat between the covers of a book."
Janet Sadler
Tuzman offers readers a story of fearlessness, compassion and love's fierce power… Ambitious in its sweep—the novel has a large cast of characters that readers come to care deeply about—the Baal Shem Tov remains at the book's spiritual center. At a time when women's role in Jewish life was limited to the home, THE TREMBLE OF LOVE features strong, independent, wholly realized female characters who study, grow and influence their teacher. Pain, suffering, and death are of course a part of the novel, but kindness and goodness shine through, stripped of sentimentality, and elevated as a reminder of what human beings can be when we listen to our highest angels.
Rob Okun
Behind the Scenes: The Writing Journey
The writing of this novel has been a long journey that isn't ending …  Read more
Join Ani's Inside Circle of Readers
Get Chapter 1 NOW! Be first to get the RECORDING of Chapter 1!
Get behind the scenes peeks & other great perks. Stay Connected!